Tips for Choosing the Right Size Cardboard Box
After the relief of finishing an order and getting ready to send it out, you might not immediately think too much about what size box to pack your product in. Choosing the right size shipping box is crucial in ensuring your product arrives safely to its destination. It can also do wonders for brand recognition and contribute to your brand's unique messaging.
If you're looking for knowledge on how to choose the right size shipping box for the next time you send an order or just want to stock up on boxes for your business, keep these tips in mind!
In addition to improving your boxes' overall design, you should make sure they'll hold up and arrive at their destination in excellent condition. When you're gearing up to ship your package off to an excited customer, account for these ideas when you choose your box:

What Are You Using the Box For?
First, you'll want to ask yourself what you're using the box for. This will impact what type and size box you choose. Consider the following options to see which box would best fit your needs:
E-commerce mailers or mailer boxes are great if the unboxing experience is an important feature of your product. These boxes are built for safe transit and work well for subscription programs or when packing several items in one box.
Donation bins look more presentable than plastic bags and are better for the environment. If you're running a donation drive, this box style will work great for accepting items.
Folding cartons are a solid option if the product you're selling is small — such as makeup or hair care products — or if you're selling your goods in a retail setting like a salon or boutique.
What Are You Shipping? Is It Breakable?
Think about the item you're shipping. When you choose a box, you'll want your product to fit snugly inside with maybe a little wiggle room. If you select a box that's too big, you'll risk looking careless, paying for the extra material and being less environmentally sustainable. Account for these product factors:
How fragile it is: Products like stuffed animals, stationery or apparel likely won't need additional protection. However, breakable items like perfumes or wines will require extra padding or even custom inserts to ensure they stay safe and secure.
How heavy it is: Putting a heavy product in a lightweight box spells trouble. Make sure the box you choose can handle your item's weight.
If it's consumable: If you're shipping food items or medication, you'll need to be wary of the external temperature's effect on the product when you pick your shipping box.
You also might want to consider the preferred flute size of your box. Flutes are used inside cardboard boxes to increase durability and strength. Additionally, flutes can help protect your products from outside shocks and vibrations. Flutes typically come in three different sizes: E flute cardboard boxes, C flute cardboard boxes and B flute cardboard boxes.
Another helpful hint: Even if you're shipping something like a T-shirt that doesn't need extra padding inside its box, you can leave some extra room in your measurement. This way, you can add some fun packing elements like tissue paper, which is excellent for giving your package some personality and adds to your customers' unboxing experience.
How Many Items Are You Shipping?
If you're shipping more than one item in the same order, there's no need to put them all in separate boxes and run the risk of them arriving at different times. Think about being a consumer. If you order three things from one site, would you rather each item arrives at separate times throughout the week or all at once in one package? You'd probably like to get your entire order at once, even if it means waiting a few days longer.
So, get creative with your packaging! Think of a subscription box. With this type of product, many items are placed carefully into one larger box. Unboxing multiple items inside one large box builds customer excitement and allows you to put some extra thought into your products.
If you're only shipping one item, you can fit your box precisely to the product. Below, we'll touch on how to measure your product to see which minimum box size you'll need.
How Are Boxes Measured?
To know what size box you need for your products, you'll first need to measure the items. Understanding the measurements your items require is helpful in thinking about how to choose the right size box. To determine what size shipping box you need to fit your product inside, follow these steps:
Measure the length, width and depth of the product you're shipping, as well as any packaging material you have.
Add 1/8 to 1/4 inch to each dimension to account for wiggle room.
It may also be helpful for you to know how to measure a cardboard box. To measure a cardboard box, look at its internal dimensions instead of its external dimensions. Internal dimensions let you know how much space is available inside the box rather than how much space the package takes up as a whole. Though internal dimensions are more critical for figuring out the amount of space inside, you'll also need to be aware of the external measurements for shipping costs.
What Are Your Ideal Shipping Costs?
Freight costs can also play a role in the type of box you select for your products. Your overall business budget should include a section for shipping costs, as these can quickly add up.
Bigger boxes cost more to ship, as shipping companies simply charge more to transport larger items. While smaller box measurements can reduce freight costs, so can other packaging tactics, such as:
Proper packaging: Damages to shipped products can be expensive for your business to resolve. Taking extra care to choose quality packaging helps you save money in the long run.
Lightweight packaging: Package weight also contributes to freight costs. Though product weight is unavoidable, you can opt for the most lightweight boxes and packing materials possible so the box itself doesn't add unnecessary costs.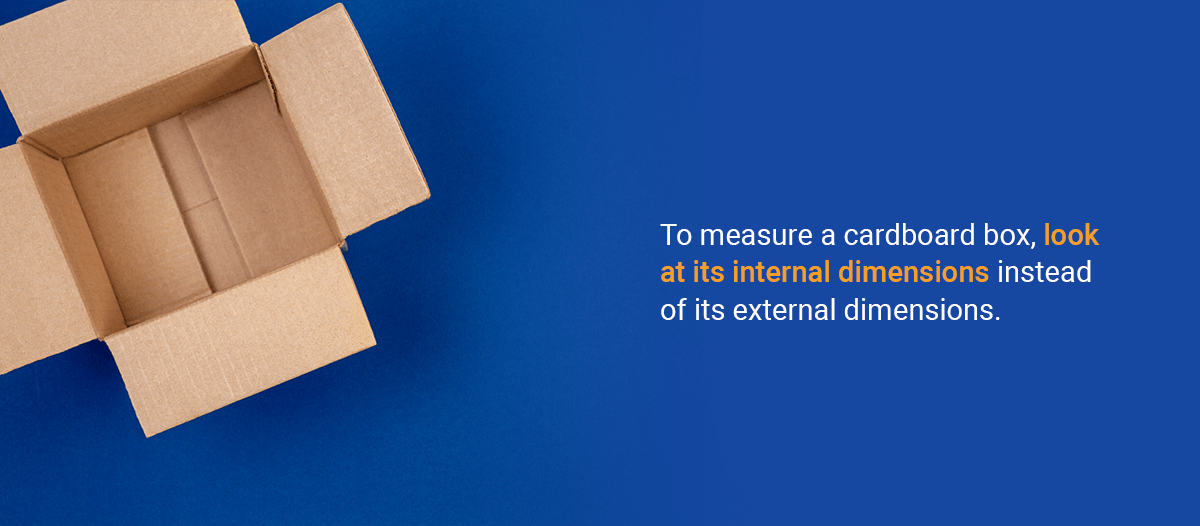 Why Is Choosing the Right Size Box Important?
Selecting the correct size box is crucial, primarily because it significantly lessens the chances of your product being damaged in transit along with helping to keep freight costs down. There are many cardboard box sizes, which gives you a ton of options when deciding what will work best for your brand. Put a product in a box that's too big, and you run the risk of it rattling around in transit. Likewise, if you try to jam an item inside a box that's too small, it might get damaged.
Aside from the logistical benefits, choosing the correct size box for your business shows a consumer how detail-oriented you are.
Contact BuyBoxes to Help You Choose Your Shipping Boxes
When you're ready to pick some boxes for your product, let the experts at BuyBoxes help! We have no minimum order quantities and no tooling costs. You can take advantage of our easy-to-use editor to design boxes for your business that will surely impress your customers, old and new.
We have a team representative available to assist you at every step of the way. We're committed to providing you with the best service possible and can help you feel confident in your ability to choose the right boxes for your brand. To get started, contact BuyBoxes online today!