How to Use Holiday Packaging to Win More Customers
The holidays are approaching, and that means holiday-themed products and packaging are about to flood the market. Holiday-themed packaging is more than a nice thing to do to fit the tone of the season, as holiday packaging benefits are extensive. The best businesses know there are many reasons to use holiday packaging, and we're going into more detail here.
Are you wondering how holiday packaging can help your business this holiday season? Or maybe you want to learn some tips for holiday packing so you can get the best results possible. Read on to discover the impact of holiday packaging and how you can use this technique successfully for your business.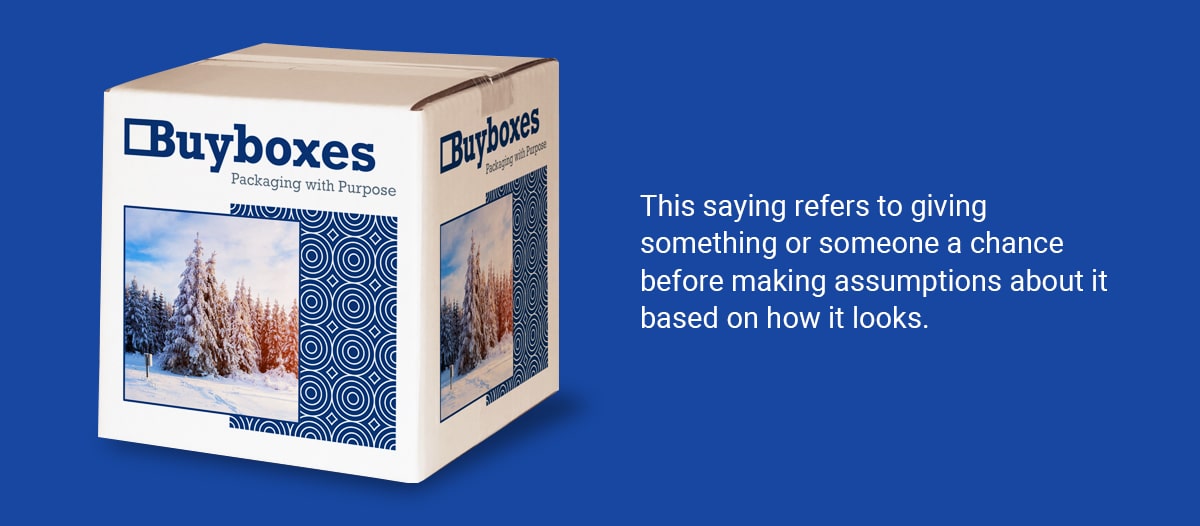 Why Holiday Packaging Is Important
People experience retail products visually before using any of their other senses. A well-known expression encourages us not to judge a book by its cover. This saying refers to giving something or someone a chance before making assumptions about it based on how it looks. But when it comes to product packaging, you want people to make positive assumptions about your product to encourage a sale. Holiday packaging is a technique to attract more buyers to your products during the holidays.
Besides that initial visual incentive, here are three other reasons why holiday packaging is important:
It makes the holidays more convenient for customers: Gift wrapping is essential for people to surprise the recipients of their gifts. It also displays holiday-themed graphics and colors to help set the mood. Despite these points, gift wrapping can feel like a chore for many people. Make the holidays more convenient for your customers by doing the "wrapping" for them with beautiful holiday gift packaging.
It makes your products feel more relevant: The holidays come with an aesthetic all their own. Many customers want to see products that fit that aesthetic. Besides — do you want your products to be the only ones that look normal while your competitors embrace the holiday aesthetic? With holiday packaging, you can achieve the relevance your customers desire with even better results if your competitors continue using their regular packaging.
It builds brand recall: Branding is essential to stand out from the competition and be recognizable to your customers. Using holiday packaging opens the door to a new side of your branding strategy. You can use similar branding every holiday season to strengthen your brand identity and highlight new areas of your brand that can encourage more holiday sales.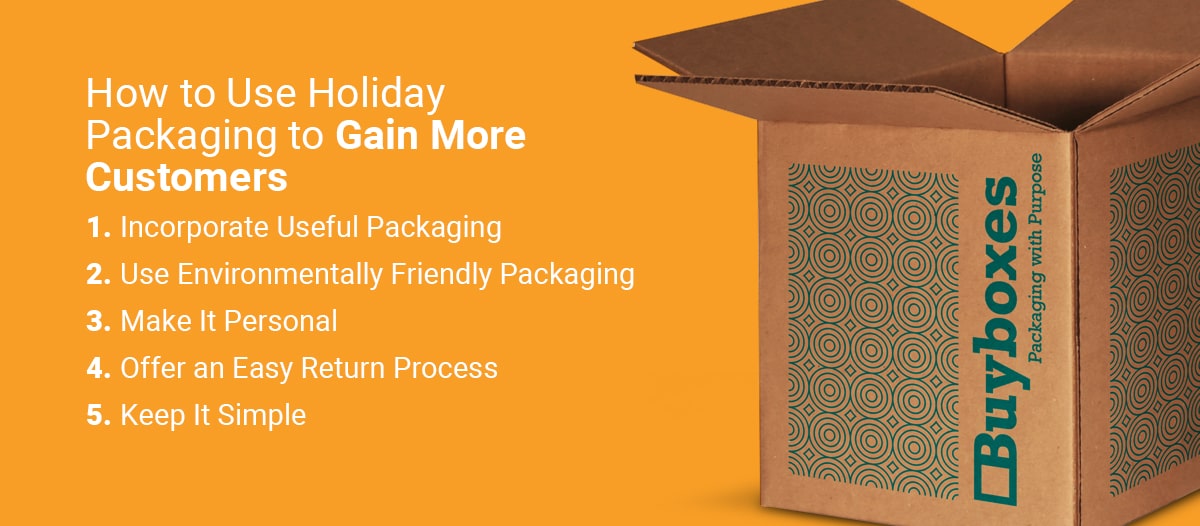 How to Use Holiday Packaging to Gain More Customers
You should know what you're doing before embarking on a holiday packaging strategy. Here are some tips for holiday packing so you can enjoy the most benefits for your business this holiday season.
1. Incorporate Useful Packaging
Holiday packaging can be so much more than something to contain your products. Try thinking of your holiday packaging as a gift in itself, and you can open up the door to all new possibilities to set your company apart from the competition.
For example, you can wrap your product in a reusable tote bag with your brand's logo on it. Besides acting as free advertising for your company every time they use it, it also reduces the amount of waste going into the landfill. Waste is often at its peak during the holiday season because of all the non-reusable gift wrapping and packaging.
2. Use Environmentally Friendly Packaging
Making your packaging reusable is a great step toward being more environmentally friendly. But there are other ways you can accomplish more environmental consciousness with your packaging, which many of your customers and potential customers will strongly appreciate. Here are some ways you can take better care of the environment:
Use simple brown craft paper or newsprint to wrap products as gifts.
Use calendars, maps or pages from old books for your wrapping.
Use recycled and biodegradable materials throughout your packaging stages.
These steps will show your company cares about social responsibility while also radiating a rustic charm during the holidays.
3. Make It Personal
Many people will continue to flock to the big box stores this holiday season, but there will always be a considerable number of consumers who prefer to support small businesses. Let these customers know you appreciate their decision and make their shopping experience unique and personalized. Here are some ideas:
Add a thank you note to your product packaging.
Include a complimentary item with their purchase.
Set up a gift-wrapping station to let customers add their personal touch and wrap the gift right then and there for physical sales.
Include several gift-wrapping options at checkout for online sales.
4. Offer an Easy Return Process
There's always a chance for returns during the holiday season. Rather than making this a difficult or tedious process for your customers, you should try to make it as painless as possible. That way, customers who return their products may still consider your business in the future.
Start by making it easy to request a return and get a return shipping label. After that, you must ensure you're using holiday packaging that the customer can easily use again when repackaging the product for shipment or physical return. Taking these two critical steps will make returns easier for your customers this holiday season.
5. Keep It Simple
The initial temptation for many companies during the holidays could be to go "all out" with their holiday packaging. This includes the use of ridiculous graphics and packaging that may catch the eye but makes little sense for the product it contains, all while using plastics that will only take up space in the landfill when all is said and done.
Set your business apart by keeping your custom holiday packaging simple. Use subtle holiday accents and graphics. Use a few colors that align with the holidays while keeping within your recognizable branding. Use customized tape, string or wrapping for a minimalist appeal. All these small suggestions can cause your products to stand out to more discerning customers who appreciate something a little different while avoiding corny holiday tropes.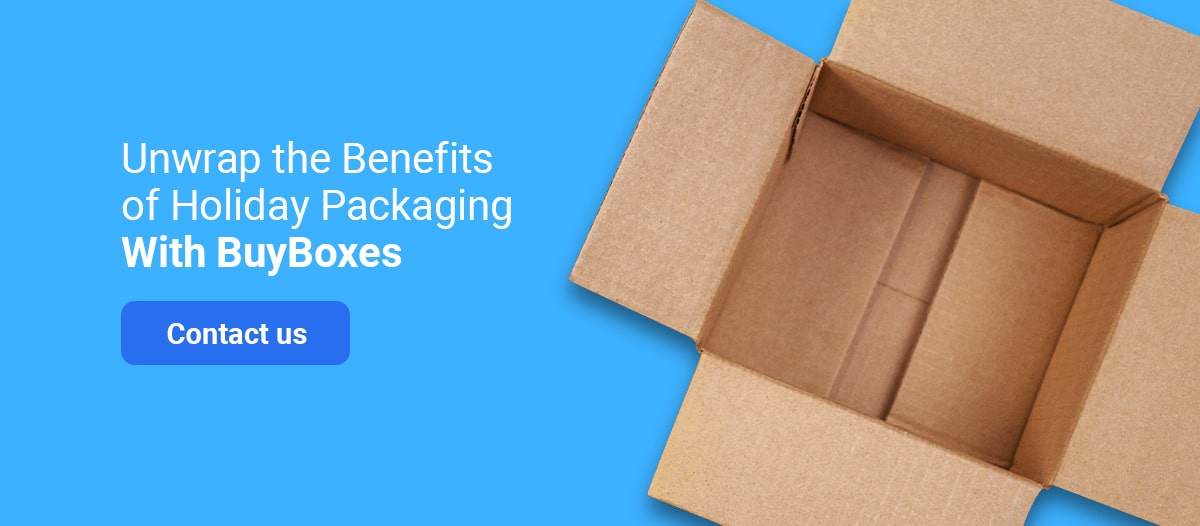 Unwrap the Benefits of Holiday Packaging With BuyBoxes
Whether you want a custom gift box for your products this holiday season or you want to start designing your holiday packaging, BuyBoxes is here to help. We have the intuitive solutions you're looking for to achieve the best holiday packaging for your products to stand out from the competition and catch your customers' attention. Contact us today to learn more and tell us about your holiday packaging project!