Designing Holiday Packaging
Believe it or not it's already that time of year… The holiday season is upon us. It seems like we blinked on the last day of summer and now the holidays are here.
That means before long you'll be scrambling around making last minute preparations, rushing from one party to the next, and squeezing in the last of your holiday shopping.
Unfortunately, what's sure to be one of the most hectic times of the year for you, is also the busiest for your business. You have be prepared for the influx of customer that the holidays inevitably brings. It's important to make a list (and check it twice) of all of the things you need to prepare for. But there's always one thing that always seems to get overlooked. So the team here at BuyBoxes would like to remind you… DON'T FORGET ABOUT YOUR PACKAGING!
Two Reasons You Should Make Holiday Packaging a Priority This Year
We know packaging isn't usually the first thing people think about when they're getting ready for the holidays, but we think it should be. (We may be a bit biased) There's two reasons we think you should make packaging a top priority this year.
Without packaging, your product isn't going anywhere. It's important to build in some time for revisions, production and delivery when you're planning your holiday push. The last thing you want is to be ready to ship out, but have no box to put your product in.
Christmas spirit! Getting people in the Christmas spirit can help you build a positive brand association. Your box can double as gift wrap to save people a bit of time in the wrapping department. But more importantly you'll have a really awesome, festive looking box! Using digital printing, which BuyBoxes does, allows our customers to change their designs anytime they'd like. So you can update your packaging for any holiday, event, or promotion without having to pay pricy tooling fees.
The Importance of Planning
Getting back to the logistics of planning your packaging (only for minute we promise). It's crucial to have your designs ready as early as possible. We can get you your boxes pretty quick, but it's better to be safe than sorry. We'd recommend you have your style and designs decided upon and ready to go at least 3 weeks in advance of when you need it. Our lead times are much shorter than that, but in case there are any last second artwork changes or you need your boxes earlier than expected its best to be prepared. If you really find yourself in a pickle, reach out to us about rush production. We'll do our best to get you your boxes before you need them.
The goal is to make your customers feel like they're opening a gift from a family member when they open up your box.
Tis the Season… For Awesome Designs!
Now let's get to the fun part; designing your packaging!  There's no single right way to come up with festive packaging for your big holiday push. Some people make subtle changes while others opt for a complete redesign, those choices are completely up to you. But one thing is certain customizing packaging for the holidays gives your business a genuine feeling that makes your customers feel at ease doing business with you. The goal is to make your customers feel like they're receiving gift from a family member when they open up your box. The more excited they feel when they have that package in their hands, the more likely they are to become a loyal customer.
Bonus: Cool holiday packaging leads to free marketing. The unboxing experience is more popular than ever. Instagram provides the perfect place for people to share pictures of all aspects of their life. These days that has grown to include unboxing videos and pictures. While the popularity of online shopping has exploded, so has the amount of people sharing their new purchases with thousands of followers. All you have to do is entice them to do so with some festive packaging and you're on your way to free marketing.
We've put together a collection of free assets you can use to get a head start on your holiday designs.
In this asset pack you'll find patterns and icons that you can use to get your Christmas packaging started. You can either upload these and use them in the editor or ask us for a die line and design offline. Get creative in how you mix and match the assets. Combining different holiday patterns and colors can drastically change the how your packaging is viewed.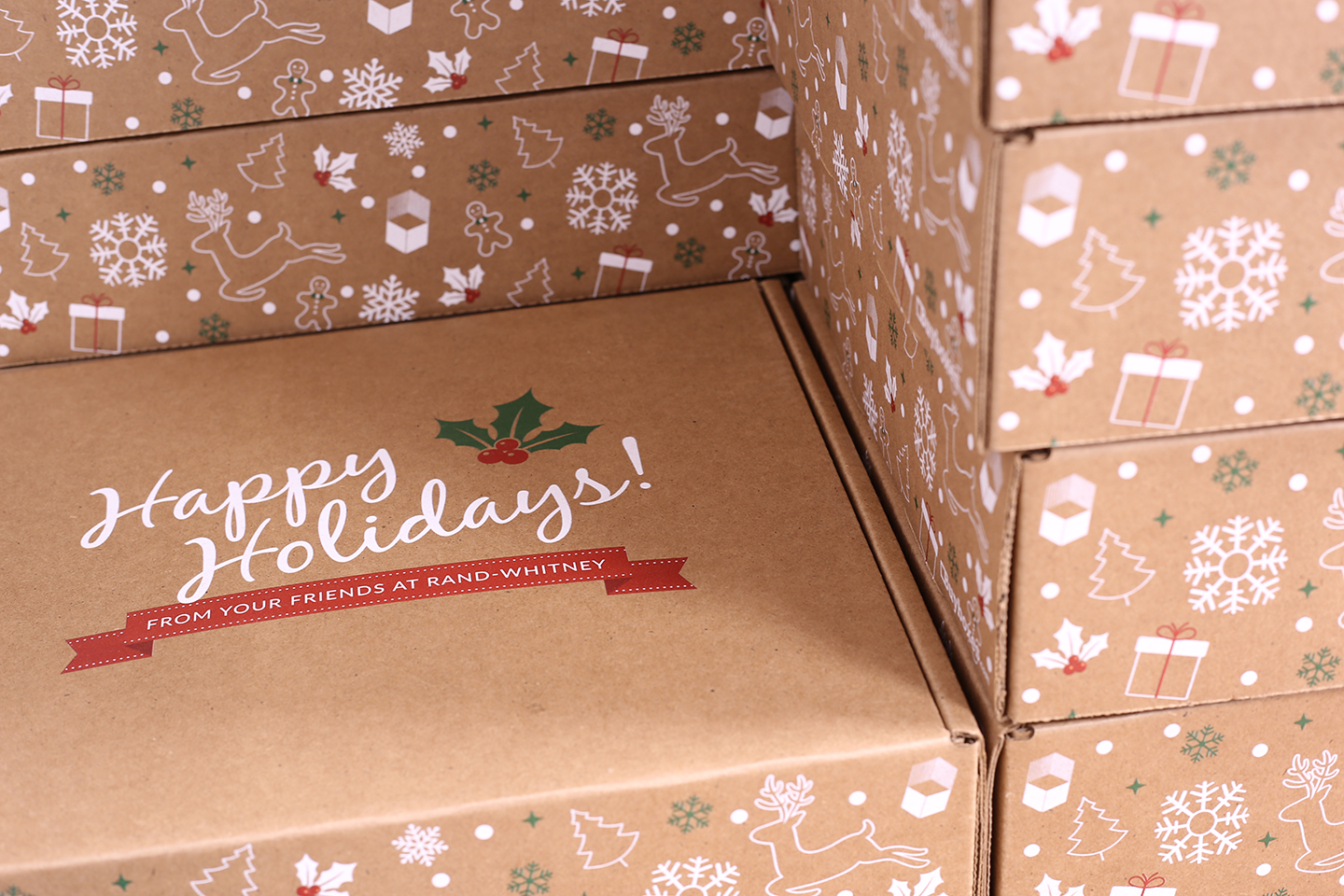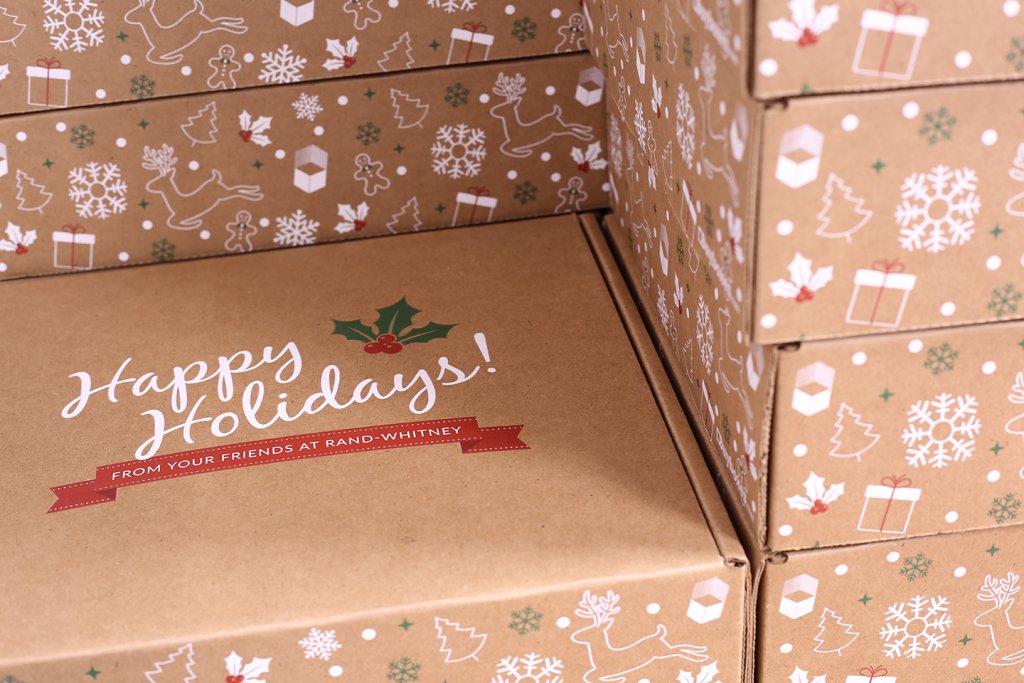 For a More Nostalgic Design 
For the more traditional brand going for a nostalgic look, we'd recommend using Kraft board. Using Kraft cardboard gives you a more rustic look that feels and looks a bit more genuine. It's important to remember that your colors don't show as brightly as on white board. But we have an easy solution. Backing your colors with white ink makes them pop as though they were printed on white cardboard. We recommend trying out our repeating holiday pattern on Kraft cardboard. White ink looks best in our opinion!
 A Classy look for a Classy Customer
Nothing says class like gold. It's been that way for centuries, and it isn't going to change anytime soon. In this case, we think there's beauty in simplicity. Gold snowflakes accenting your packaging lend a bit of sophistication to your holiday packaging. We recommend using these in conjunction with a darker-colored print.
For the Perfect Presentation
If you're someone that loves holiday traditions and thinks there's no reason to fix what's not broken we have the assets for you. Place the green and red snowflake pattern on your packaging and you'll hardly be able to tell whether your box has wrapping paper or not. Gift Tag icons and ribbons are also available to make a perfectly gift-wrapped package.
For those of you designing outside of our easy-to-use editor, all of the patterns you'll find in the asset pack are fully editable. Feel free to pull them apart, change the colors, or rearrange them to match your style!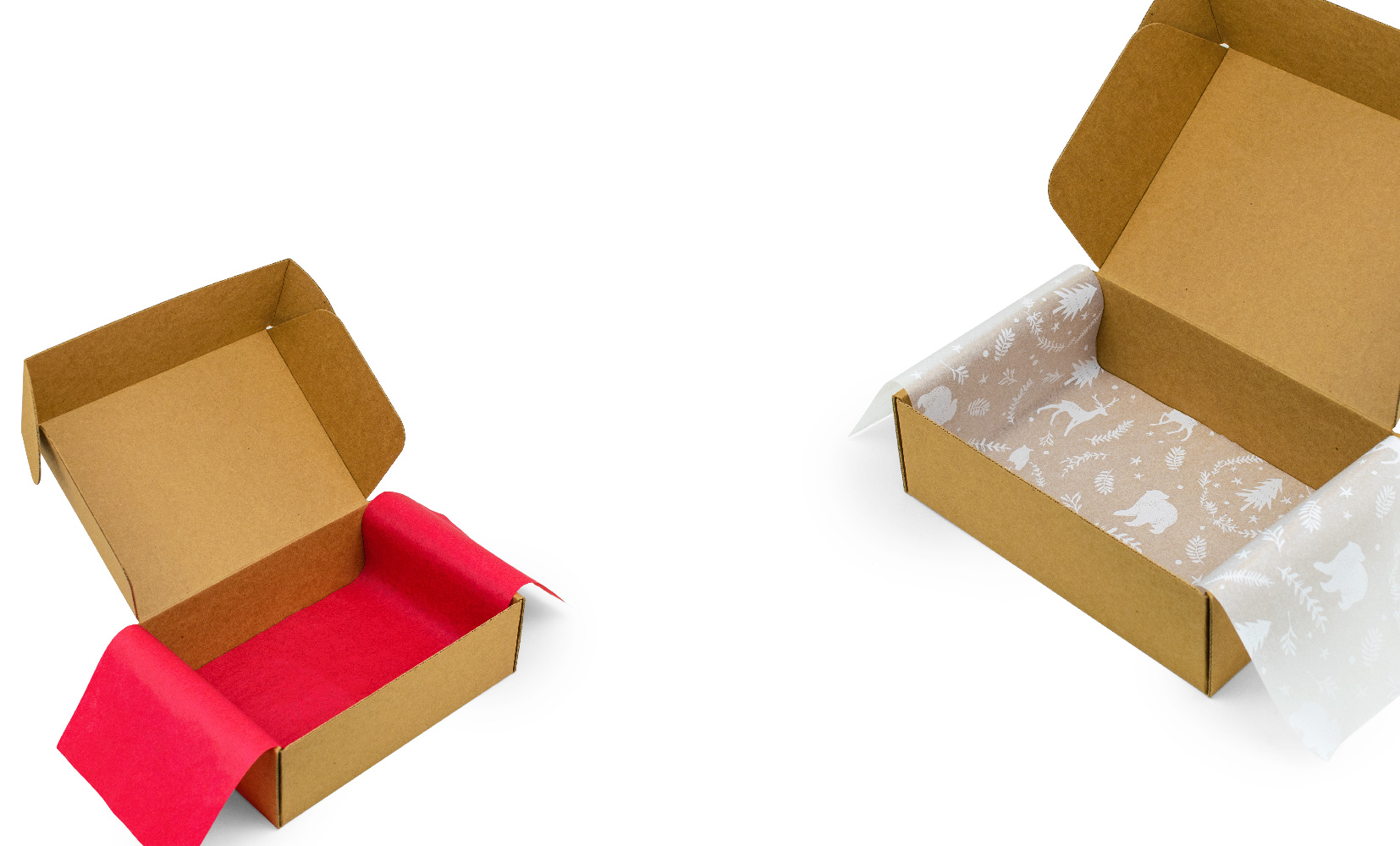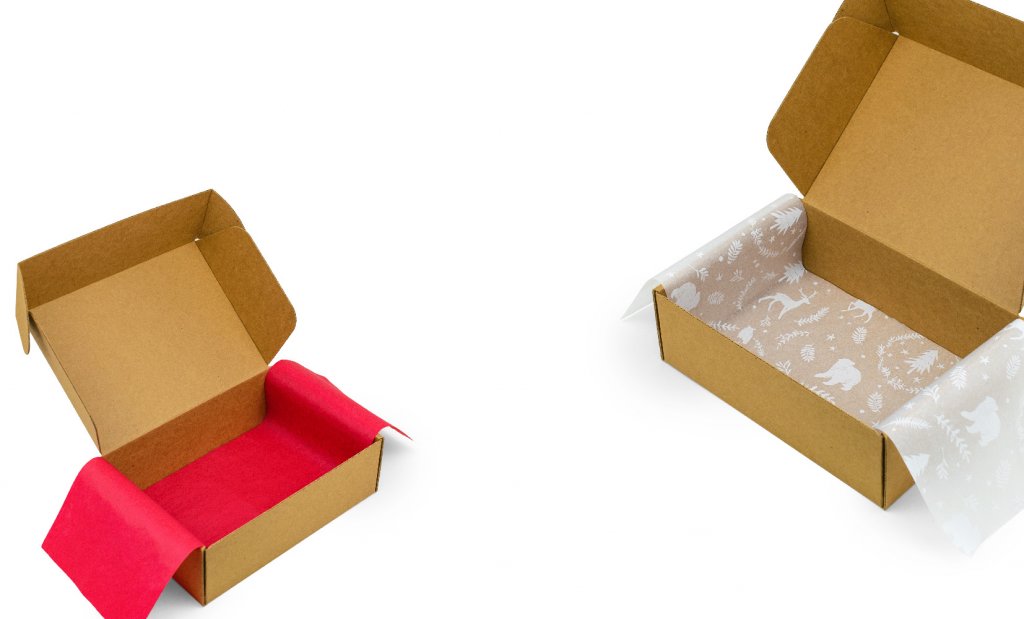 Tissue Paper to Top it all off
BuyBoxes now offers tissue paper! In the interest of making your lives easier, we're now offering tissue paper to go along with your custom packaging. Tissue paper is the perfect accent to make the inside of your box as spectacular as the outside. If you're looking for a bit of added padding, the solid color options are twice as thick as regular tissue paper. Be sure to check out our holiday options including the classic perfectly plaid and the always classy woodland critters.
If you have any other questions about holiday packaging or how BuyBoxes can help you please feel free to reach out at 877-253-7364 or fill out our contact form here!