Custom Employee Welcome Boxes
A new employee welcome box is designed to introduce fresh hires to the company and provide essential items to help them settle quickly and perform optimally. It sets the tone for an excellent working relationship and creates lasting memories for the new employee.
Learning how to build onboarding gift boxes that new talents will love requires brainstorming. The ideal welcome kit balances generating excitement and serving a functional purpose— that should be simple to achieve. With custom employee welcome boxes, you can get creative with onboarding and choose a package that sells your company's brand and values in the best way possible.
Benefits of Employee Welcome Boxes
An employee welcome box can exhibit your company's beliefs, values and mission and provide the accessories a new hire needs to succeed in their job. Let's consider these benefits in detail:
1. Packaging Your First Impression
BuyBoxes specializes in making packaging that pops! Most people don't recognize the importance of first impressions. When a new hire receives their new employee welcome kit, the box it comes in will help form the first impression they have of your company. That's where we come in!
We can help you customize your welcome kit with amazing graphics that show your new employee what your company is about and make you stand out. We know that every company is unique and needs a special box, so we offer customizable sizing, inserts and a variety of different materials. Contact us, and we can get started on the perfect employee welcome kit today!
2. Creating a Welcoming Workplace
Every year companies hire millions of new employees, so you may be asking yourself, what puts your company ahead of the pack? Creating a custom new employee welcome kit can help new or prospective employees feel at home in a new work environment.
We've all started new jobs before, and let's be honest, it can be stressful! There is a lot happening and even more to remember. It is crucial for companies to recognize this and be proactive in their approach to onboarding new hires. A new employee welcome kit is the perfect way to help educate, inform and alleviate new employees' stress.
3. Showcasing What Your Company Is All About
You can use these packages to showcase any number of different benefits your company has to offer. A custom welcome box will make new employees feel like valued members of your work community. This initial onboarding will help jumpstart a new employee's success.
A custom employee welcome kit can display your company's values, beliefs, and mission, as well as provide the tools or accessories a new hire needs to be successful in their job. They are a great tool for sharing a plan for the first few weeks and identifying key contacts and login information. Adding something company-branded will help assimilate the new hire into the company too. Something as simple as a notepad or water bottle will show that you care they are part of your team.
4. Increasing Employee Retention Rates
A solid onboarding process could increase employee retention rates, and welcome kits offer a superior advantage. They help build a strong bond between new talent and the company at an early stage, reminding the employee why they worked so hard to get the job in the first place. These kits also provide context to the job expectations and goals from the beginning.
Welcome kits enable new employees to start well at new jobs and succeed immediately. By reducing the initial stress associated with starting a new career, talents are motivated to offer their best. The feeling of appreciation and satisfaction establishes loyalty and a rewarding long-term relationship.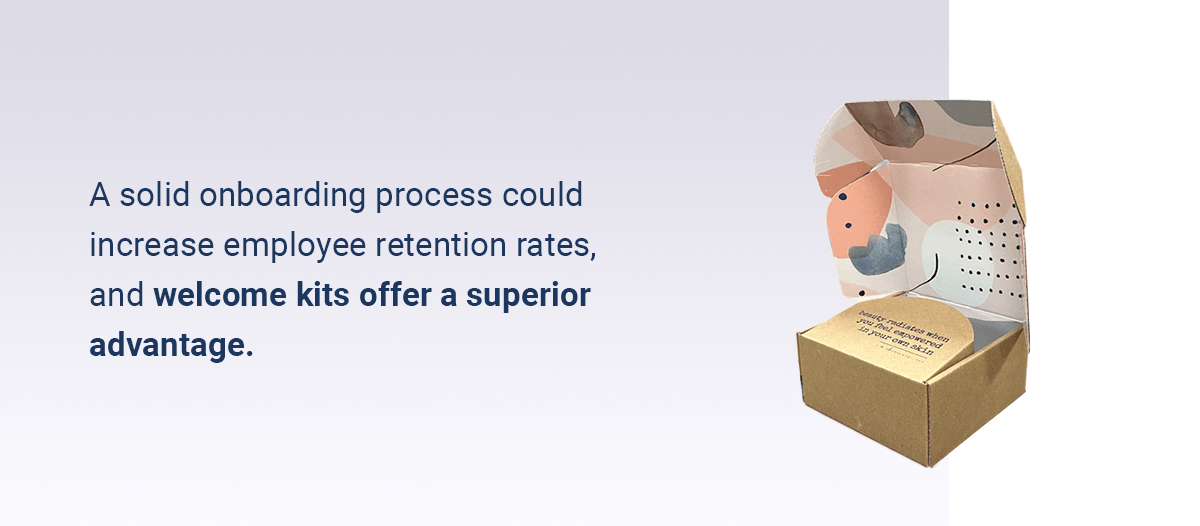 Ideas for Your Employee Welcome Box
You can place other valuable items in your employee welcome boxes. Here are some examples:
Welcome letter: A handwritten letter from management or the CEO will likely get hires pumped up for their new roles. It could also demonstrate how supportive the company is in terms of professional and personal growth.
Tech accessories: Most companies provide large items like laptops and monitors, but smaller accessories like headphones are a practical gift. You may also use the opportunity to share the company's policy on the use of technology and other information such as login details, email address and phone number.
Wellness items: Physical and mental wellness has become paramount among most employers and workers. A welcome kit shows new hires that you care about their well-being and help them feel more comfortable sharing concerns with your team. Offering employees items like water bottles, yoga mats and gym rebates or discount coupons can put a big smile on their faces.
Team culture handbook: In addition to your employee handbook and policy guidelines, include a culture guide about your team. Share fun information like favorite coffee shops, corporate events and philanthropic work to help them better understand other activities beyond regular work.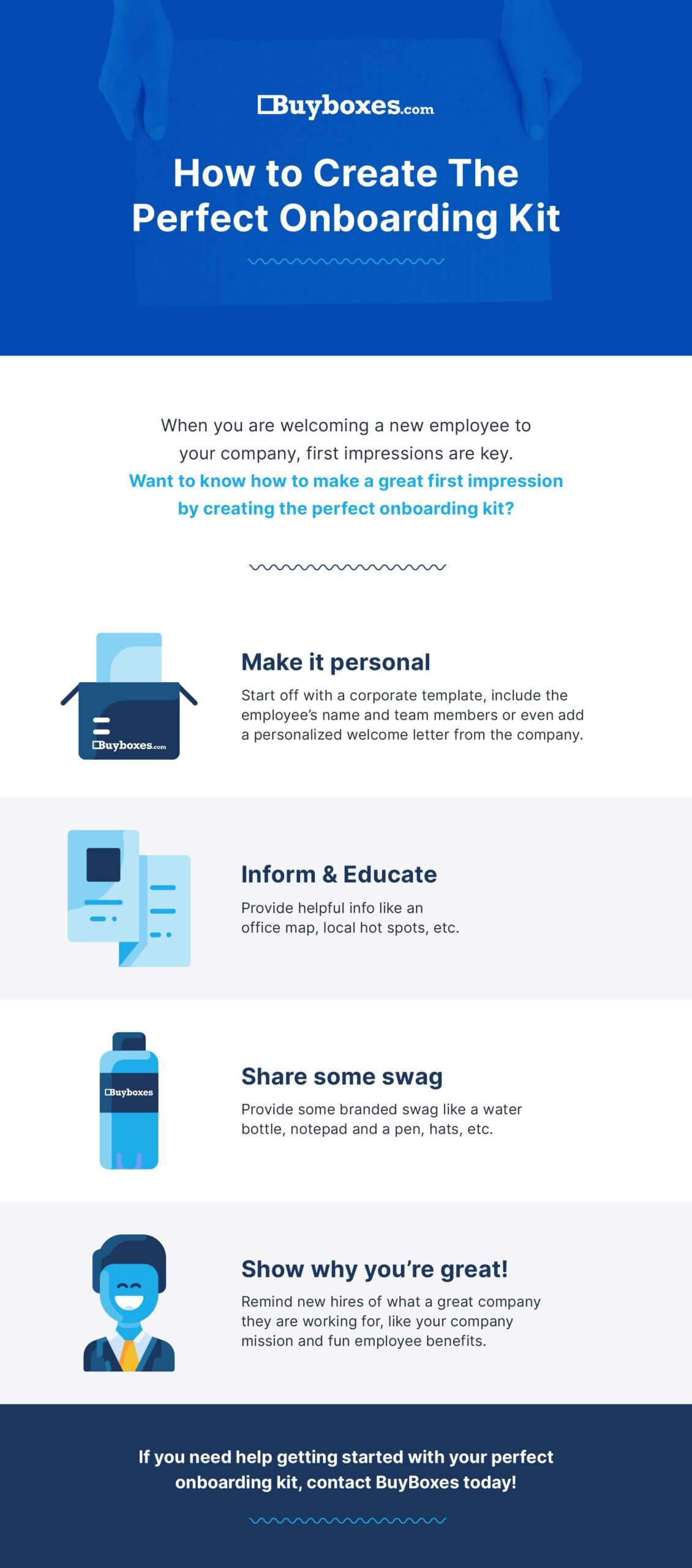 How to Create the Perfect Onboarding Box
Here are a few of our suggestions for creating a killer new employee welcome kit:
Make it personal: Start with a corporate template, but make sure to add the new employee's name and team members. Or add a personalized welcome letter from the company, new manager, or owner.
Inform and educate: Provide information that will be helpful for someone navigating a new place— restroom locations, the printers, the break room, and so on.
Share some swag: Make your new employees feel like they already belong with some company-branded gear. Even a water bottle, notepad and a pen will go a long way in making new employees feel welcome.
Show why you're great: Remind new hires of what a great company they are working for! This can include your company mission, charitable contributions or specific employee benefits like an annual company BBQ or casual Fridays.
How BuyBoxes Can Help
Handing out onboarding gift boxes is a thoughtful way to welcome new hires to your team. It helps them settle in quickly, increases job satisfaction and provides them with the needed tools to enhance work performance. The trick is selecting a customizable box option that allows you to create an experience that complements your company's brand and values.
BuyBoxes helps businesses develop the ideal solutions to introduce employees to their new jobs. By leveraging our proprietary online application and team of structural engineers, you can design various high-quality packing products on demand with no minimum order quantities and zero tooling cost. Contact us today and tell us about your project!