The Benefits of Custom Box Inserts
Whether you're wondering about ways to protect your products during shipping and handling or want to find new ways to impress your customers, utilizing custom box inserts can have many advantages for your business. Beyond keeping your products in place, inserts can help you tell a greater story with your brand and messaging.
Your customers will appreciate the attention to detail. They'll also enjoy unboxing products from your brand that are in great condition and have a beautiful presentation.
Explore the many benefits of utilizing custom box inserts for your business.
What Are Custom Box Inserts?
Businesses use box inserts, also called packaging inserts, to ensure each product stays in a secure position inside other boxes. Most manufacturers construct inserts out of cardboard or paper.
While a packaging insert's main job is to protect the product, it also enhances your brand's presentation of the product. Businesses that ship multiple products together can utilize these inserts to keep each item in its respective location for unboxing purposes.
You can also customize your box inserts with your business's branding and design to excite your customers. Learn more about the reasons to use custom inserts for boxes.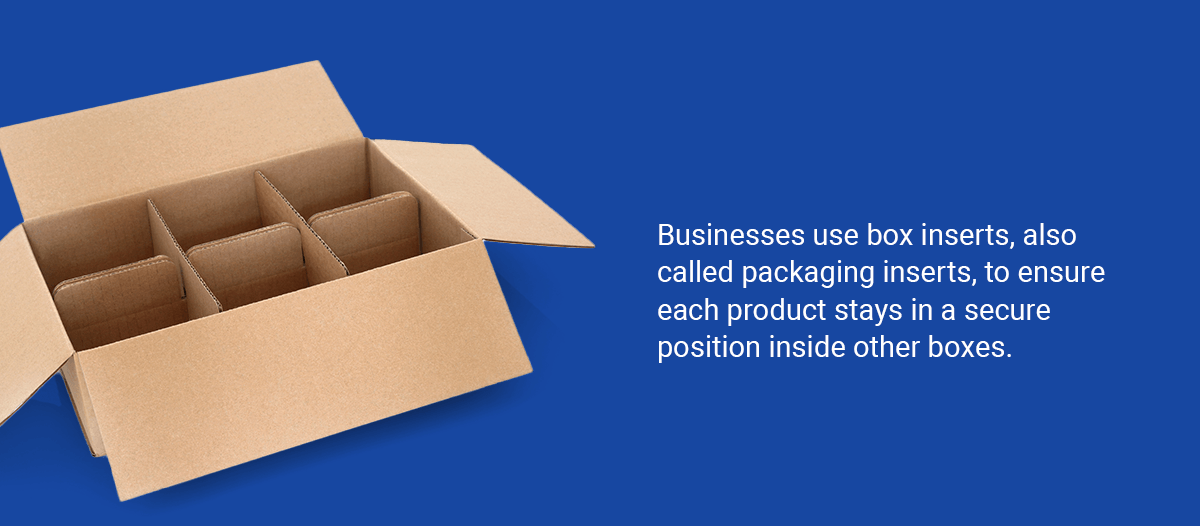 Benefits of Packaging Inserts
Consider the advantages of packaging inserts:
Building Connections
Standing out from the rest and creating connections with your customers can be challenging, especially since people see and hear up to 10,000 advertisements on various platforms every day.
Custom box inserts can help your brand build connections and make shoppers feel special when they open your packages. You can add text and imagery that shares your brand's values and personally resonates with your customers. Customization can make your products more memorable and impactful. It may even encourage your customers to share with others.
In order to connect with consumers, they must trust your business and the quality of your products. Packaging inserts can help you communicate attention to detail and consideration of the buyer.
Keeping Products Safe in Style
Every business should prioritize keeping their goods safe during travel and storage. No one wants to open packaging that has damaged products inside. Box inserts can minimize mishaps by providing structure and support to keep items safe.
One of the greatest advantages of using custom box inserts is being able to protect your products in shipping without using unsightly box fillers like styrofoam packing peanuts or bubble wrap. Custom box inserts provide protection in a stylish and exciting way without compromising aesthetics.
Educating Consumers
Another benefit of custom box inserts is the opportunity to educate your customers about your product. You can include information such as your ingredients or how to use your product.
You can add information about your business's mission or other details about your philosophies. Customizing your packaging inserts is a resourceful way for your brand to communicate with your customers and help them get the most out of your products so that they keep coming back to your business. You can also add important information, such as any safety warnings. Using your packaging to educate consumers is an effective marketing strategy and a great way to connect with your customers.
Establishing Brand Loyalty
Establishing brand loyalty is one of the many reasons to use packaging inserts. Loyalty is highly beneficial for businesses. It shows your products consistently deliver on their promises and that shoppers think your brand is preferable to others.
The unboxing experience is important to modern consumers. Unboxing has become a strong selling point for businesses. It differentiates your brand from others and feels like a bonus for your customers. In fact, 72% of consumers say packaging design influences what they choose to buy.
Custom box inserts make the process more exciting and immersive for your shoppers. You can hone in on your target market and create designs that speak to them. A remarkable unboxing experience can influence people to make repeat purchases from your business and help you establish brand loyalty.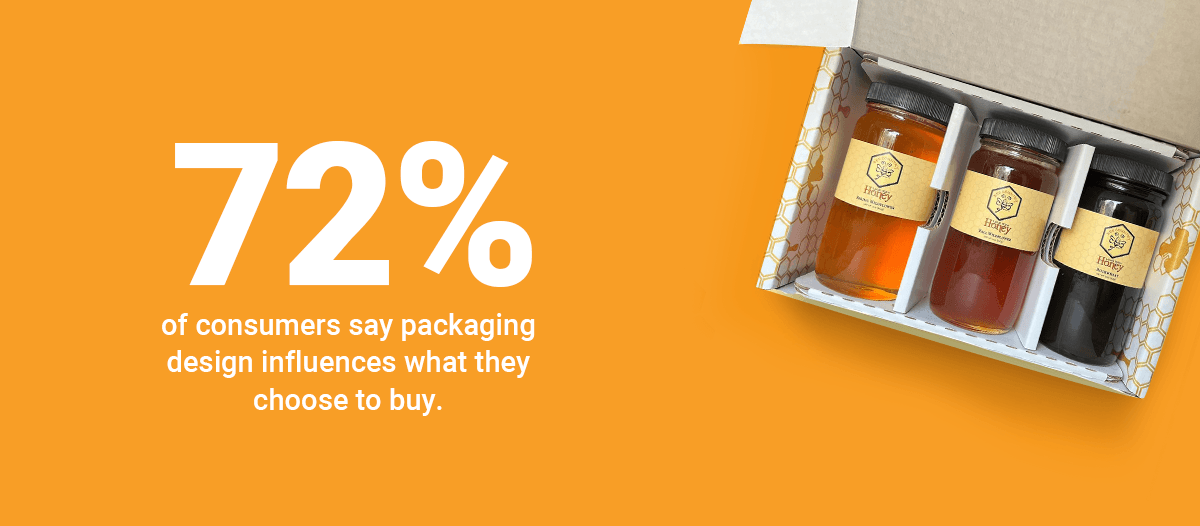 Protecting the Environment
When selecting custom box inserts, you can opt for sustainable packaging inserts that are recyclable and help protect the environment.
When comparing paper inserts to plastic packaging options, there are many reasons why paper is the superior material for sustainability. Cardboard is one of the most recycled materials in the packaging world. It is biodegradable and breaks down in just months, while plastic pollution is a major concern for landfills. Plus, recycling programs recover about 96% of corrugated cardboard, compared to plastic which has only a 13% recovery rate.
Sustainability is very important to today's consumers. Close to 90% of Gen X shoppers are willing to spend extra on sustainable products that don't harm the environment. Eco-friendly packaging is a great way to show them your business cares about the planet. Your customers will appreciate this choice.
Encouraging Feedback and Social Interaction
An additional benefit of custom packaging inserts is the opportunity they give businesses to communicate with shoppers to ask for feedback or direct them to the brand's social media channels.
You can use your custom box insert to share instructions with your shoppers on how to submit product reviews. Or you can share with them where to contact customer service with questions. Your packaging can also encourage your customers to visit your social media pages to learn more about your business.
Including a branded hashtag can influence shoppers to share photos and posts about their purchases. This campaign can enhance your business's online marketing efforts and can be very good for your business.
Sharing Special Messages and Promotions
Custom packaging inserts also allow your business to share special messages and promotions with your customers. For example, you could spotlight a charity organization your business works closely with and share how your brand aligns with their mission.
You could also use your box inserts to share exclusive discounts or fun promotions. This can encourage your customers to keep buying from your brand, knowing there is a small incentive for doing so. Another way you can make your box inserts benefit your business is by using them to share other products from your business. It is a great opportunity to share more about what your brand offers.
Learn More About Custom Box Inserts From BuyBoxes
With more than 75 years of experience, BuyBoxes understands how to help you maximize the advantages of custom box inserts.
We offer high-quality, customizable packaging that goes with your branding and is available in six different styles. With BuyBox Studio, you can create your box's design using our user-friendly editor, and our team of structural engines can help bring your ideas to life. We prioritize customer support and believe in providing a hands-on approach to all of your packaging wants and needs.
Are you interested in learning more? Contact BuyBoxes today!